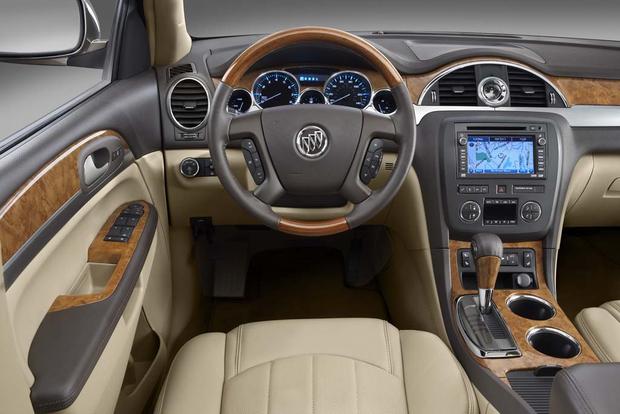 General Motors has been taking a beating for over a year now due to sales dips, make/model image problems, and labor and legacy issues. Truly, if there was a better time to jumpstart the company, I don?t know what it would be. Fortunately, someone in GM?s walnut-trimmed boardroom is getting the message: build what we want and we will buy it. The Buick Enclave, a luxury SUV making the rounds of the U.S. auto shows, appears to be one such winner.
I realize that I am in the minority of car critics, but I think that Buick is on the right track. The Lucerne, a full sized car based on the Cadillac DTS, is a beauty and Buick?s next newest model, the mid sized Lacrosse, is another attractive looking car. Still, Buick?s remaining fleet has been scaled back with only two SUVs and one crossover vehicle, the Terraza, left. At times it isn?t clear what plans GM has for its ?near luxury? division, but if the Enclave is one example, then Buick has a promising future.
Without having pictures available to show you, it can be difficult to describe the Enclave. When I viewed pictures on various web sites, I couldn?t help but think that the Enclave was similar to the Subaru B9 Tribeca. Before you get your knickers twisted in a wad, the Enclave is a swan in comparison to the ugly Subaru.
Sporting a front end akin to the Lucerne, the back end looks a lot like the Tribeca. Overall lines are somewhat car like but the Enclave certainly does sport an SUV look with calmer lines.
What we know about the Enclave at this point is fairly limited. The vehicle sits on a 119 inch wheelbase and is powered by a 3.6L V6. So, it appears that Buick will replace the smaller Rendezvous with the Enclave and keep the larger Rainier. Or, perhaps, the Rainier will be retired altogether.
The Enclave has all the amenities a Buick owner is accustomed to including: leather appointments, power everything, OnStar, a variety of entertainment options, responsive handling, and a quiet cabin. Pictures reveal 21? tires with seven spoke wheels. Seating is for six, spread out over three rows. No couch seating either; individual bucket seats are planned for all six passengers.
There is no official word yet whether the Enclave will see the light of day at least in its present interpretation. Still, the vehicle is a fresh look for a refreshed division, something that Buick certainly needs in order to keep the momentum going.